Staff Compliance Automation for the Financial Services Industry
VigilantCS is a RegTech solution focused on compliance automation for the financial services industry. Our platform serves as a knowledge-base and centralized hub for dealers, advisors and investment fund managers that enables cost-effective compliance, improved controls and analytics to reduce conduct risk.
VigilantCS enables you to enhance the value of your firm as a trusted brand by supporting your staff in serving the financial needs of clients.
Our Core Solutions Team
Robert Kirwin
Chief Executive Officer, Co-Founder
LLB, University of Windsor; MBA, York University
Rob has held executive and senior-level roles in legal and compliance capacities in securities commissions and investment companies in Ontario and British Columbia. He is a member of the OSC Fintech Advisory Committee (FAC) and the IIAC FinTech Working Group.
Geoffrey Pille
Chief Technology Officer, Co-Founder
BMath, University of Waterloo; MBA, McGill University
Geoff is a versatile and innovative technology-oriented senior executive with experience in IT, information security, privacy and risk management in several sectors, including financial services. His expertise includes FinTech/RegTech, Information Security/Privacy & IT Risk Management.
Jade Yu Han
Behavioural Scientist
M.Sc., business studies (HRM/OB Track), University of Amsterdam
Jade is a PhD candidate in management-organizational behaviour at Carleton University, Ottawa. A former associate senior section member for the China Banking Regulatory Commission, Jade developed the initial base to collect information for the VigilantCS behavioural and machine learning algorithm.
VigilantCS – Select Achievements
Securities commissions re: link to NRD; mid-tier registrants re: opportunity for common industry platform; international commission dialogues, May 2018
National Research Council (Innovation Research Assistance Program), May 2018; Ontario Centres of Excellence (OCE) Cybersecurity Fintech Innovation Pilot Program (CFIP), March 2018
Named a Top 25 Up and Coming ICT Company by the Branham Group Inc. July 2018; one of only three Canadian firms listed on RegTech 100, Feb. 2017
IIAC FinTech Summit, June 2018; Rotman Machine Learning Conference, May 2018; Canada Fintech Forum and Sibos (Montréal), Oct. 2017
OSC Fintech Advisory Committee, Feb. 2018; IIAC FinTech Working Group, June 2017
Ottawa, Canada, Dec. 2016
One of Only Three CDN Companies Named
The RegTech 100 was chosen by leading industry experts following an analysis of 416 RegTech companies undertaken by FinTech Global. VigilantCS is one of only three Canadian and one of only 100 global regtech firms to make the list in 2017.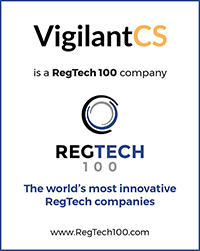 Book a VigilantCS Platform Demonstration