Proprietary Solutions That Decrease Costs, Improve Compliance
VigilantCS offers two proprietary platforms –VCSOpen and VCSOpen+  for the Canadian Securities (IIROC, MFDA and securities commission) and Life and Health Insurance industry – that enable cost-effective compliance and provide improved controls and analytics to reduce staff conduct risk. Our unique solutions:
decrease costs
deliver tangible business insights
foster an enhanced compliance culture
improve regulatory compliance and risk mitigation
VigilantCS also offers a third solution, VCSPro, that is supported by algorithms and is based on behavioural factors and academic research completed by the company's behavioural scientist. VCSPro is driven by insights from FINRA and SEC datasets and in-depth conduct risk research. It offers analytics and advanced management reporting to assess staff, location and corporate conduct risk.
VCSOpen
Empowers organizations to better administer and manage core
staff compliance requirements.
Uses either VigilantCS data capture modules or integrates with
existing corporate platforms through our API architecture.
One central staff-facing portal for efficiency.
Automatically updated.
Flexible design to incorporate various regulatory regimes and
jurisdictions.
VCSOpen+
Offers all functionality and features of VCSOpen
Also includes: registration management, continuing education (CE) management, secured messaging, personal trading tracking, supervision reporting
Available fall 2019: attestation management
VCS Change Manager
Is a collaboration between CUBE, a regulatory intelligence platform and VigilantCS to provide near real-time regulatory updates and alerts, to ensure a proactive reg change program.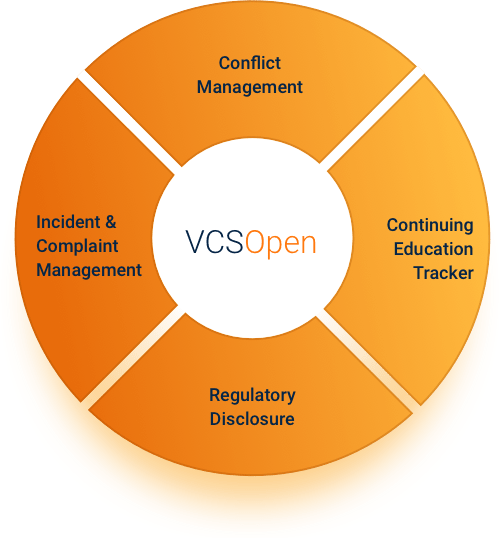 VCSPro
Enables development of staff conduct risk ranking and regulatory
risk.
Executive compliance dashboard to assess enterprise, branch and
staff compliance health drilling down to core issues.
Dynamic reporting sourced through VCSOpen or third-party data
sets.
Provides targeted, evidence-based mitigation, cost savings,
improved internal controls and enhanced staff-level accountability.

VCS Solutions – Capabilities & Features Summary
VigilantCS is an innovative producer of proprietary digital platforms that cost-effectively manage and monitor conduct risk and staff-level compliance. VigilantCS offers three unique solutions.
VCSOpen & VCSOpen+
Cost-effective compliance
Improved controls and analytics
Reduces staff conduct risk
VCSPro
Behavioural algo and analytics platform
Driven by insights from FINRA, SEC datasets, in-depth conduct risk research







Gift and entertainment log




Complaint and incident log




Continuing education management











Gift and entertainment log




Complaint and incident log





Continuing education management





Available for additional fee Can be bought as separate program

Integration with other data sets to build 3600 review

Build your own risk scoring algo

Drill down assessment of staff location and company